In order to make money online during Covid-19, you must put a system in place where you can offer something people are looking for.
Step 1. Identify an area of speciality where you can offer a service and set yourself up to make money online from that service.
Step 2. Reflect on your service and refine it. This may mean changing the price you are charging, adjusting higher or lower depending on your success, credibility, and online earning potential.
In case you are wondering, why should you listen to me. Well, I have already implemented this very system to help me make money online during Covid-19 and beyond.
For example, colleges and universities along with many K-12 educational institutions are now doing some form of distance learning. What service(s) can you offer in the field of education that would allow you to make money online during cover-19? I'll list a few: tutors, proofreaders & editors and Readers to do Read Alouds.
Make Money Online During Covid-19 by working in an education related capacity
There are thousands of students across America taking Algebra, Trigonometry, Spanish, Statistics, learning to read, identify their letters and so on. Parents are tasked with this new role of being a teacher, students are expected to sit in front of a computer for hours on end. But these students need help. They need the same level of help and tutoring or more than they would need during a typical school year. You can offer your tutoring services via Fiverr.
If you have taken a few Spanish courses, create a gig on Fiverr I will offer basic Spanish tutoring for $30 per 15 minutes. You get 3 customers, and bang you are at $90 dollars a day, the equivalent of a substitute teacher in a school. And just like that you have implemented an approach to make money online during cover-19
Many students at all levels from secondary through higher education are still writing papers. You can offer to proofread high school essays, college assignments, etc. for $25 per paper. You can even simplify this process and use Microsoft Word or Google Docs spelling and grammar checking features.
Reading books.
There are many children who need a bedtime story or simply a read aloud throughout the day. You can record yourself reading children's books and post them on YouTube and get paid for the views or you can sell them as a gig on Fiverr. For example, I will read a bedtime story for $5.
Think about it, again children are home all day now with their parents. Their parents in most cases are not teachers or in some cases they aren't comfortable reading books aloud. This is where you come in. This may be something you do every night in your own household, so why not offer it to a family in need and make money online during covid-19 in the process!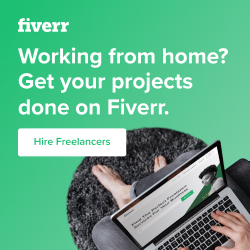 Sell your services or outsource on Fiverr
Remember with Fiverr, you don't have to set up a seller's account but rather you can be a buyer and hire someone to do all the work for you. For example, let's say you want to tap into the Read Aloud market. You'd open a buyer's account. Make a request for a freelancer: "I need someone to read aloud a brief children's book and make a 2 minute video or audio recording." Create the agreement i.e., you'd pay $5. Now you take this video or recording and you post it to YouTube or sell it directly for $10.
Let's say you want to create a blog. You post a request, "I need someone to make a blog for me." Create the agreement and pay for the service and viola, you have a blog that was created for you. You can do the same with content. Pay a freelancer on Fiverr to write content about any topic you want. Pay them, and again voila you have content that you can publish and make money online during Covid-19 without leaving your home or learning how to create a blog yourself!
Are People Really Making Money Online
Believe it or not, there are still ways people are making money online during cover-19. For example, people are blogging, monetizing through ads via blogs, YouTube, freelancing, and more. Those 3 are methods that people have been using for over a decade to make money online. As previously mentioned, many industries have closed their doors. Not the internet, we still are up and running. Take your services online and make money!
Think about how many people are making masks and face shields to protect others from Covid-19. These people have simply identified a need and a service they can offer. Some of these people have never made a mask or shield before but they are producing them like experts now. What can you do to make money online during covid-19 right now?
Turn Any Talent into an Online Money Making Opportunity
Turn Any Talent into an Online Money Making Opportunity by putting it online. If you are a stock advisor and you have been furloughed, then you can take your skills online and make money by creating a blog with stock investing advice, create a YouTube channel discussing the market, or freelance write articles using your expertise about the stock market.
Another example, let's say you were a college football coach and you have been laid off due to covid-19 concerns. Take your coaching knowledge online and you can use the 3 methods I mentioned above. You can easily create a video with Xs and Os drawing up how the option can be stopped. You could also create a blog with advice for high school players looking to get recruited (I tried this years ago and netted over $10k).
Be a Consultant
Being a consultant during this pandemic is a no brainer. Take whatever you did previously to make a living and create a consulting gig out of it. As I have mentioned in previous posts, you can use Fiverr because it is easy to navigate or you can create your own blog, website, or social media presence. Chances are you probably already have a social media account. Now is the time to capitalize on that account. If you are a human resource specialist, you can consult with people online who have questions about labor laws, filing a grievance, benefits, etc.
You may have recently had a virtual doctor's appointment. You can simply consult with anyone who has anxiety about what a virtual doctors appointment is. I'll give the complete how to guide for this one.
1) Get a Google Voice account and phone number.
2) Set up your consultant page via Facebook, Instagram, or Twitter, you can also use Fiverr.
3) Describe your service and your rate – example: Include a nice headline such as: Are you worried about what to expect from your virtual doctor's appointment? I will provide a 10 minute phone consultation for $20 explaining what to expect from your virtual doctor's appoint. Call me at 401-866-2299, I will send you an invoice via PayPal.
Get Paid for your Expertise
If you were a computer coder familiar with Java or HTML you can consult with people who can email you their code and you email the invoice via PayPal. Just like that you can make money online during Covid-19. You didn't have to do anything special or take any courses. Google Voice is free, Facebook, Instagram, Twitter, and Fiverr are all free!
What did it cost you to be a consultant on a topic that you are knowledgeable of, nothing! I taught myself how to code in HTML. What can you learn that you can later teach someone while making money online doing so? Possibilities are endless. Learn how to jump rope. Let's say you are into fitness or cardio, can't you share a few tips in a blog or video about your breathing technique while jogging or doing squats?
Make a Blog or Videos and Monetize it to Make Money
Your content doesn't have to be absolutely great, it just needs to add value to the lives of others. It needs to be something people are looking for. My first website target high school football players looking to get recruited to play college football. Using my content I provided value to high school football players, high school coaches, and parents of high school football players.
These approaches that allow people to make money online aren't new, more people are beginning to tap into these strategies or side hustles as they are becoming known as over recent years. But if you take my advice for making money online, your new side hustle can become your new monthly income. Lastly, I just want to emphasize the unique opportunity to make money online during cover-19 because as you can see physical businesses have closed but it would take power outages of a significant level to shutdown the internet.
Additional resources:
Easily Make $100 Per Day Online Without a Computer Right Now!
Instantly Increase Online Earning Potential
Sponsored Link
Make money online during covid-19 with Overnight Millionaire!